Top 10 under 40
Recognizing the best of the industry's next generation
In September of 2013, Rock to Road magazine introduced 20 exceptional individuals under the age of 40 who are leading the next generation of this industry's workforce in Canada. Fast-forward 18 months later, and we are now proud to extend that recognition to 10 more outstanding people.
This list has a different look and feel than that of the original list of 20 that we profiled. These 10 focused less on the management of companies and more on some of the future careers that are driving the industry forward, battling with other industries for workers in an incredibly competitive skilled trades environment. They are the people who run parts of the overall operation, provide necessary support for company initiatives, and bring hard work and dedication with the knowledge of new technologies to create stronger companies.
Here are the Rock to Road Top 10 under 40.
Edward (Ted) Magnusson | Mine Manager Designate
Fraser Valley Aggregates – Surrey, B.C.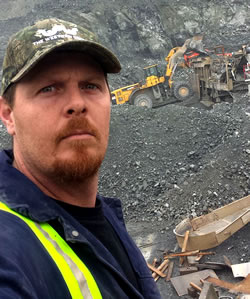 Edward Magnusson, or Ted as his team knows him best, has become one of the keys for the success of the Fraser Valley Aggregates operation in British Columbia.
Ted's career in the aggregate industry started with operating heavy equipment on large-scale projects such as the Sea-to Sky Highway and the Port Mann Bridge. From there, he spent two years in Fort McMurray providing ground preparation for upcoming camp developments before settling with Fraser Valley Aggregates.
Ted has been a valued employee of Fraser Valley Aggregates for 2 ½ years, bringing with him over 10 years of industry knowledge. Ted started as a loader operator before quickly becoming a tower man, and currently is the acting mines manager designate of Fraser Valley's Highland Quarry location. Ted's innovative ideas and mechanical knowledge have allowed the company to increase production while maintaining the quality of the product. Ted's natural ability to communicate, organize, prioritize and problem solve make him the ideal team lead.
credit: view the full top ten list at Rock to Road